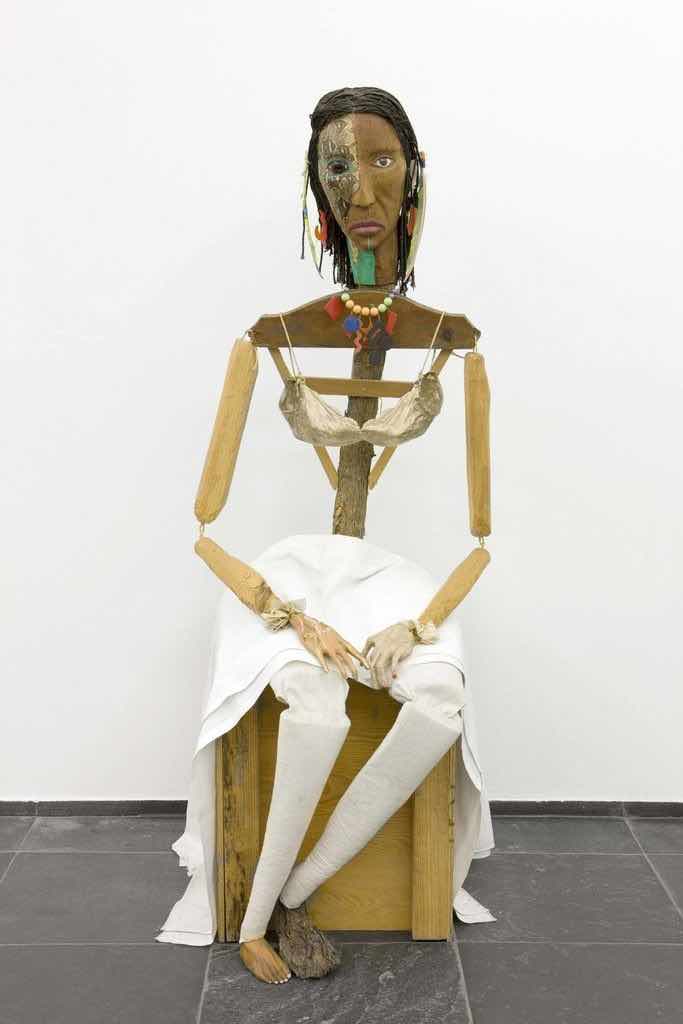 Ever since losing a breast,  Absence is a theme that fascinates me and an appropriate one for this October Breast Cancer Awareness month;
For so many women the absence of one or two breasts has become a new normality. And whilst cancer and this loss is something no woman should have to deal with, I find it hugely encouraging to see that more and more women dare to embrace their asymmetric / flat physique and celebrate their new beauty instead of trying to comply with the symmetry of two undulations. Just to name a few ; @lessthantwobreasts @karlabarajasj @trineamazon @reneeridgeley @m_bee_w @thebooblesswonder @anna.bonny @deenametzger_author @jersibaker @adalodge
For me this breast-less sculpture of La Maliche by Jimmie Durham seems to talk about that absence, with a token bra trying to re-assure our expectations.
But this work addresses many more acutely relevant themes ;
At first glance this might look like a traditional Native American carving with beads, snakeskin and feathers. But at closer inspection it becomes clear that we're looking at plastic hippy jewellery and a chain-store bra, the body an assemblage of recycled objects.
La Malinche was an Indian princess who was the mistress of a white man, and as such,  this work could be interpreted as a symbol of sexual oppression and colonial domination. It comments on hybrid culture and questions the prejudices of the Western viewer – our desire to treat non-Western art as exotic ethnography and our readiness to accept stereotypical representations of indigenous people.
La Malinche 1988-91 by Jimmie Durham, Cherokee Indian artist, essayist, poet and political activist